Friday, March 30, 2012
What do Ivanka Trump and Amelia Earhart have in common? Apparently fashion. This week, Ivanka Trump launched her collection at Lord and Taylor, joining the growing list of celebrities whose business strategy includes leveraging their brand name into a fashion line. The Kardashian sisters, Jessica Simpson, Jennifer Lopez, Rachel Zoe, Katie Holmes, the Olson twins, Heidi Klum are just a few of the many celebrities who have forayed into the fashion scene with their recognizable names and valuable marketing platforms- some have earned their rightful place in fashion, but most are met with skepticism by industry insiders. Why? Because none of them have a formal design background and many have yet to prove their longevity. Furthermore, there is a major artistic difference between a celebrity and a true fashion designer. While our TFG readers may think that this type of celebrity branding is a recent phenomenon, coupled with the advent of reality television, many might not realize that this type of branding goes as far back as the 1930s when Amelia Earhart, aviation's female maverick, was busy making history. This TFG profile takes a historical look at the courageous and stylish woman.
Amelia Earhart's personal style has inspired many fashion designers in the decades following her lifetime. While her leather bomber jackets and trousers may be commonplace today, they were as trail-blazing in the 1930s as Coco Chanel's banishment of the corset form in the flapper dress. However, Earhart didn't just define style and inspire designers that came long after her. Among her many endorsements was a fashion line.
What many may not know is that Amelia Earhart did not just license her name to a manufacturer. She played an active role in creating the designs and had a love for fashion that has understandably been overlooked by her "first woman to fly across the Atlantic" status.
I became curious about Amelia Earhart's fashion line after reading her biography a couple years ago. I immediately did some online research and found an old Huffington post article, decribing how Earhart created samples using her own sewing machine and a dress form with the help of a seamstress in New York. Below is a picture of her actually laying fabric on a form.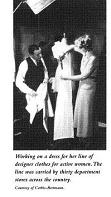 The original Amelia Earhart clothing line included dresses, blouses, pants, suits, and hats at price points ranging from $15.00-$55.00. Because her line was launched in the midst of the Great Depression, Earhart advocated budget-conscious choices and was the first to recommend the marketing of "separates." Below are pictures of a remaining sample of a dress and her label from her fashion line on display at the Hanford Carnegie Musuem.
While images of Earhart's original sense of style is a testament to her pioneering ways, her fashion line never stood the test of time. Perhaps because her life was cut too short. However, if there is one thing that Ivanka Trump and other celebrities can take away from this bit of fashion history- something which the Olson twins have proven- is that a hands-on approach and dedication to quality is the only way to have a chance of creating a fashion line worthy of longevity and recognition in the industry. Otherwise, rest assure the line could be just another cog in a marketing machine that just as quickly disgards as it produces.
in
Profile