Thursday, February 7, 2013
NYFW has officially begun and before TFG goes full force in providing our readers with the latest runway coverage, I wanted to go back to my fashion lawyer roots and recap some of the recent cases and developments in fashion law that have already set the tone for the new year.
First off, the legal dispute between Tory Burch and her ex-husband Chris Burch, colorfully dubbed by Judge Strine as a "drunken WASP fest" has been settled. As noted in our previous post, the dispute began over the sale of Chris's stake in Tory Burch LLC, which Chris claimed his ex-wife made difficult for him to do. Additionally, Chris claimed that Tory Burch was also interfering in business partnerships related to his new retail concept C. Wonder, which many claimed that its seeming likeness to the Tory Burch chain upset his former wife. This was confirmed when Tory Burch countersued her former husband for trade dress infringement over the similarities between the two brands, as well as unfair competition and breach of fiduciary duty.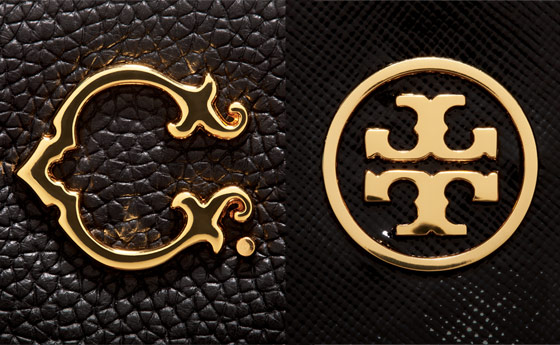 The similarities included the resemblance of their gilded logos, in-store light fixtures and respective candy-colored decor. Tory Burch's lawyer Marc Wolinsky told WWD at the time, "[t]his guy ripped off Tory Burch. His product looks like our product, his stores look like our stores." Chris Burch's lawyer Andrew Rossman responded that both of the brands' products reflected "timeless styles that other people invented." The terms of the settlement remain confidential. However, it is known that Chris Burch still retains an undisclosed stake in Tory Burch LLC.
Second, the Innovative Design Protection Act (IDPA) of 2012 has died in Congress because the 112th Congress has ended and the bill was not passed into law. Fashion continues to remain in exile of the U.S. Copyright regime, perpetuating the knock-off industry.
Here's hoping that Senator Schumer will reintroduce the IDPA in the next session of Congress. Designers deserve to be afforded some form of copyright protection. One thing is for sure- the debate over copyright protection for fashion continues.
Third, the Federal Trade Commission (FTC) fined four retailers — Macy's Inc., Sears Roebuck and Co., Amazon Inc. and Leon Max Inc. — a combined $1.26 million for allegedly falsely labeling rayon products as made of bamboo. I have encountered some major labeling issues as a fashion lawyer and can confirm that the FTC does NOT mess around when it comes to labeling products, especially those meant to be eco-friendly. Their specific guidelines are meant to protect the consumer and prevent false advertising and misleading labeling.
Charles Harwood, acting director of the FTC's Bureau of Consumer Protection, told WWD "If a textile is made of rayon, sellers need to say that, even if bamboo was used somewhere along the line in the production process." Sears, including its Kmart subsidiaries, agreed to pay $475,000 to settle the charges, while Amazon agreed to pay $455,000, Macy's $250,000 and Leon Max $80,000. More posts on FTC apparel guidelines to come.
Last and most recent, John Galliano won the first round of what is sure to be a protracted and intense labor dispute after a Paris court ruled that it was qualified to hear Galliano's claims against his dismissal in March 2011 after 15 years as creative director at Dior, following a series of public outbursts during which he uttered racist and anti-Semitic insults. John Galliano blamed the remarks on work-related stress.
Despite the disgrace in Galliano's downfall, complicated commercial contracts remain at the heart-and-center of this dispute. Dior's attorney believes that the Labor Relations Court is not qualified to hear the case, since Galliano was linked to Christian Dior Couture and John Galliano by a multitude of contracts, including several consultancy agreements with Galliano's company, Cheyenne Freedom. He added that these could not be treated separately from the employment contracts established between Galliano and the two companies, and that he was therefore more an independent contractor than a subordinate. Nevertheless, the Paris court did not seem to agree and it remains to be seen what kind of severance package Dior's former employee will get.
2013 has already proven to be a fruitfull one in the fashion law world. TFG will be sure to be at the forefront of these as well as future cases and developments.